Ingredients:
2 tablespoons cinnamon sugar
1 package Puff Pastry thawed

3 cups of shredded @oldamsterdam_us premium aged Gouda
Directions
Heat the oven to 400°F

Cut the apple into slices

Unroll defrosted pastry sheet. Cut into 4‑inch squares. Repeat with the remaining pastry sheet.

Top each pastry square with @oldamsterdam_usaged Gouda, one piece of bacon, and a drizzle of honey. Lastly, place one apple slice on the pastry square

Fold the corners together diagonally. Brush with egg wash and sprinkle cinnamon sugar all over

Bake for 15 minutes or until the pastries are golden brown. Remove the pastries from the baking sheet and let cool on wire rack for 5 minutes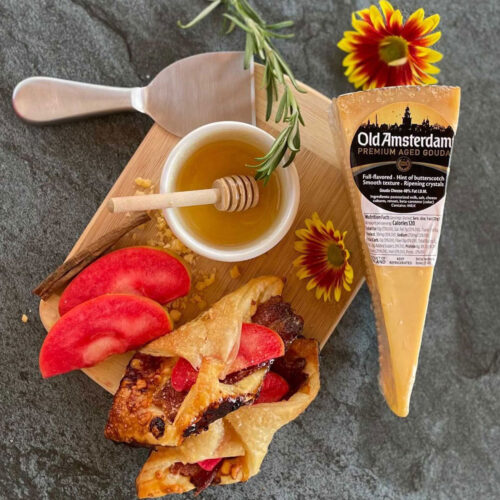 Traderjolene's Apple Gouda Pocket Puff
The Apple Gouda Pocket Puff! This recipe truly compliments the rich and savory flavor of @oldamsterdam_us Gouda.While shopping at Trader Joe's grab some @oldamsterdam_us premium aged Gouda, along with your favorite apples, frozen puff pastry, and follow these simple instructions.
Ingredients
1

apple

1

pack of bacon

2

tablespoons

cinnamon sugar

1/4

cup

honey

1

package Puff Pastry thawed

3

cups

of shredded @oldamsterdam_us premium aged Gouda
Instructions
Heat the oven to 400°F

Cut the apple into slices

Unroll defrosted pastry sheet. Cut into 4‑inch squares. Repeat with the remaining pastry sheet.

Top each pastry square with @oldamsterdam_usaged Gouda, one piece of bacon🥓, and a drizzle of honey 🍯. Lastly, place one apple slice on the pastry square

Fold the corners together diagonally. Brush with egg wash and sprinkle cinnamon sugar all over

Bake for 15 minutes or until the pastries are golden brown. Remove the pastries from the baking sheet and let cool on wire rack for 5 minutes
Video