Ingredients:
1 bunch small mixed peppers
(red, yellow, orange)

1 lb Spicy Italian Sausage
1 bag small mixed potatoes
Directions
Preheat Oven to 375*

Cut the onion in half and slice lengthwise from pole-to-pole

Clean and thoroughly dry the potatoes

Put the veggies above in a bowl and toss with 2 tbs best quality olive oil

In a saute pan over med-high heat, brown the sausage until cooked through. Drain onto a paper towel removing all but 1 tbs fat

Mix sausage and pork fat with the vegetables and mix

Place entire contents in on a sheet pan (covered with Parchment paper for easy clean up).

Cook until vegetables are lightly brown and tender and potatoes are cooked through. About 25 mins
Follow the NYT Cooking @nytcooking for this incredible Sheet Pan Recipe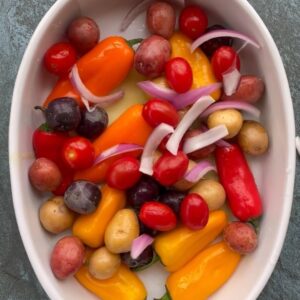 Delicious @nytcooking Sheet Pan Recipe
This @nytcooking Sheet Pan Recipe is amazing !! Super Easy, one pan meal.
Just grab: Peppers, Spicy Italian Sausage, Potatoes, Salt, Pepper, Onion and Olive Oil.
Ingredients
1

bag mixed

yellow, red, orange peppers

1

Onion sliced lengthwise

1

lb

Spicy Italian Sausage

1

bag small mixed potatoes

2

tbs

Olive Oil

salt and pepper to taste
Instructions
Preheat Oven to 375*

Cut the onion in half and slice lengthwise from pole-to-pole

Clean and thoroughly dry the potatoes

Put the veggies above in a bowl and toss with 2 tbs best quality olive oil

In a saute pan over med-high heat, brown the sausage until cooked through. Drain onto a paper towel removing all but 1 tbs fat

Mix sausage and pork fat with the vegetables and mix

Place entire contents in on a sheet pan (covered with Parchment paper for easy clean up).

Cook until vegetables are lightly brown and tender and potatoes are cooked through. About 25 mins