Ingredients:
1 pint non-dairy coconut creamer

2 bags of spiced chai tea
Directions
Slice the challah bread into cubes. Spread cubes into the greased baking pan. Using the Coconut oil spray
Make the batter:
Whisk 4 eggs, 1 pint of non dairy coconut creamer ( add 2 tea bags of spiced chai tea, to soak in the creamer for 1hr. and LARGE splash of Bourbon cream, cinnamon, nutmeg, pumpkin pie spice, vanilla, pinch of salt , 1/2 cup sugar, 1/2 cup brown sugar. Whisk together. Pour this over the bread.
Refrigerate overnight for best results, but if you're in a hurry just put it right int the oven after performing the following steps:
Cut the cream cheese into little pieces. I used half a block of cream cheese. Drop bits of cream cheese into the of the bread.
Sprinkle cinnamon sugar, fresh strawberries and raspberries top of the casserole, and finish off with vanilla bean paste if you have it.
Bake at 350 until golden brown (about 60mins). Allow to cool. Serve with maple syrup and powdered sugar!
ENJOY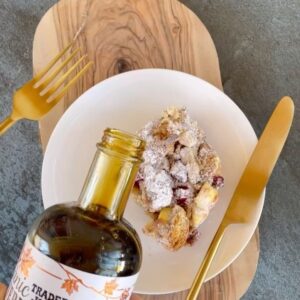 Traderjolene's Chai Challah French Toast
Chai Challah Bread French Toast Bake with cream cheese, strawberries and raspberries. This was one of the most delicious things I've ever made.
Ingredients
1

Loaf of Challah

Coconut Oil Spray

4

Eggs

1

pint

non-dairy coconut creamer

2

bags of spiced chai tea

Splash of bourbon cream

cinnamon

nutmeg

pumpkin pie spice

vanilla extract

pinch

of salt

1/2

cup

sugar

1/2

cup

brown sugar
Instructions
Slice the challah bread into cubes. Spread cubes into the greased baking pan. Using the Coconut oil spray

Make the batter:

Whisk 4 eggs, 1 pint of non dairy coconut creamer ( add 2 tea bags of spiced chai tea, to soak in the creamer for 1hr. and LARGE splash of Bourbon cream, cinnamon, nutmeg, pumpkin pie spice, vanilla, pinch of salt , 1/2 cup sugar, 1/2 cup brown sugar. Whisk together. Pour this over the bread.

Refrigerate overnight for best results, but if you're in a hurry just put it right int the oven after performing the following steps:

Cut the cream cheese into little pieces. I used half a block of cream cheese. Drop bits of cream cheese into the of the bread.

Sprinkle cinnamon sugar, fresh strawberries and raspberries top of the casserole, and finish off with vanilla bean paste if you have it.

Bake at 350 until golden brown (about 60mins). Allow to cool. Serve with maple syrup and powdered sugar!

ENJOY
Video